Thank you for your donation. Your continuous support is greatly appreciated. Please pick your preferred donation method or fill out the form below and a confirmation email will be sent directly to you.
Pico Location:
---
Beverlywood Location:
---
To donate by check please make all checks payable to Shuvah Israel
Mail or drop off at:
8853 West Pico Boulevard
Los Angeles, CA 90035
---
---
Join us through Amazon Smile.
Simple shop and proceeds from your purchases will go towards helping the community.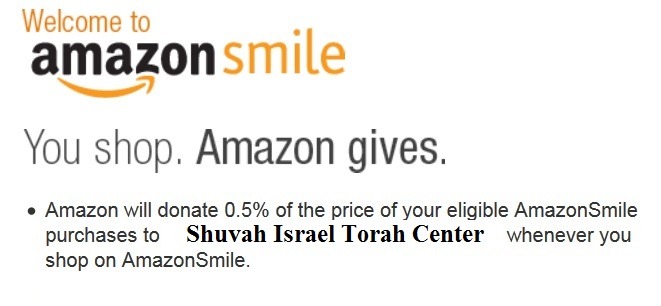 ---
Main Donation Form
---
Donation Items:
Seudat Shabbat (Kiddush): $360
Seudat Shlishit: $360
Boys' Youth and Teen Programming: $260
Girls' Youth and Teen Programming: $260
Avot UBanim: $180
Melava Malka: $180
Member Reserved Seat – Year Round (Men): $365
Member Reserved Seat – Holiday Only (Men): $180
Non-Member Reserved Seat – Year Round (Men): $465
Non-Member Reserved Seat – Holiday Only (Men): $260
Member Reserved Seat – Year Round (Women): $265
Member Reserved Seat – Holiday Only (Women): $152/180*
Non-Member Reserved Seat – Year Round (Women): $365
Non-Member Reserved Seat – Holiday Only (Women): $180/260*
One Day Learning: $260
$1 A DAY: $365
Maintenance: $101
School: $101